Chesapeake Energy Corporation (NYSE: CHK) is one of the most undervalued stocks in the Oil & Gas E&P industry. Its stock trades at lower valuations combined with strong performance in 2018 and a rosy outlook for 2019. The company's fiscal 2018 results stunned investors; its revenue, earnings and production estimates topped analysts' consensus estimates. The strategy of strengthening oil and liquid production led the company to report higher than expected results.
Its average daily oil production in 2018 stood around 90,000 barrels (bbls). This represents an increase of 10 percent from 2017. Chesapeake's oil production in December 2018 equaled 21 percent of total production mix.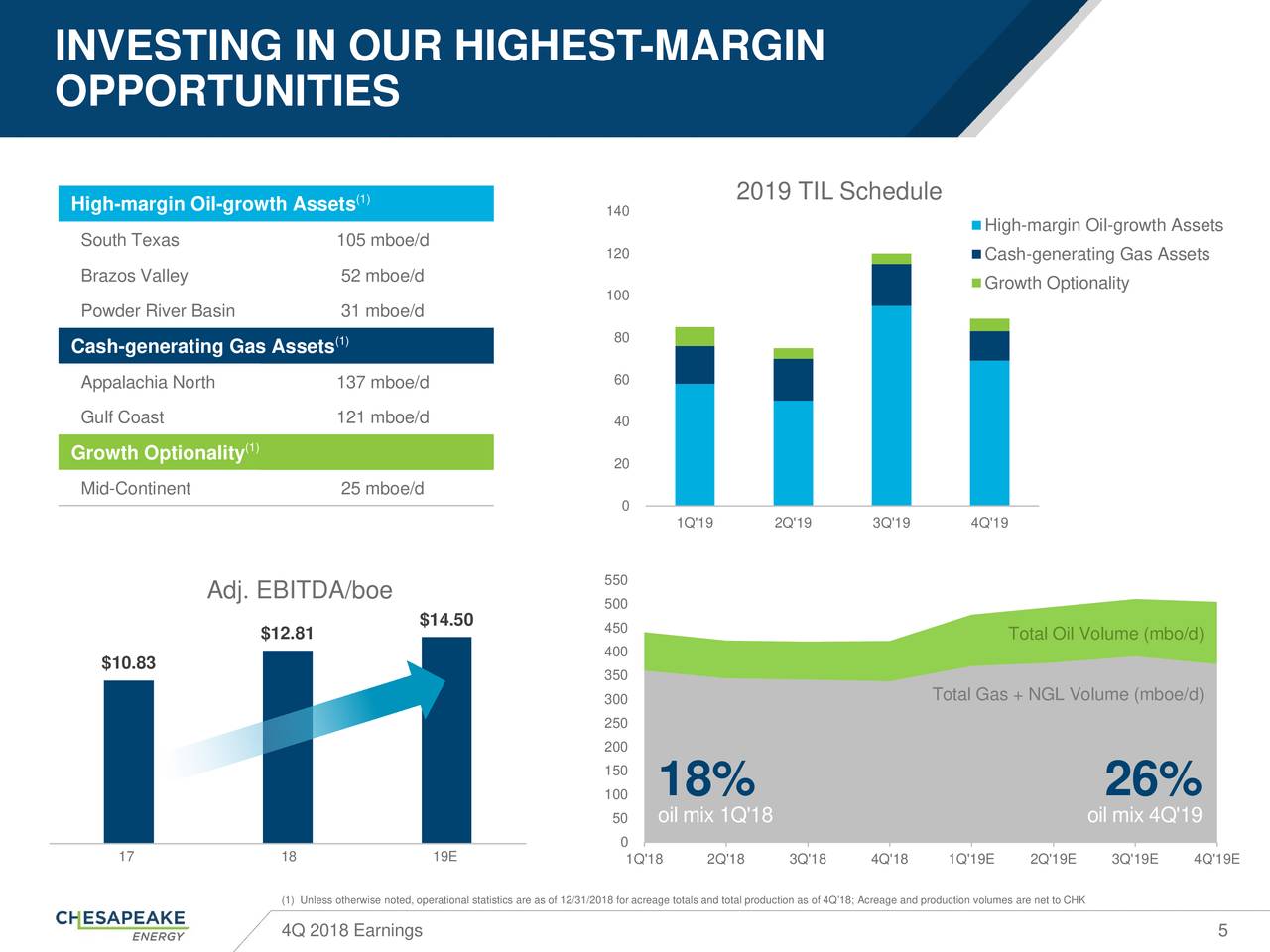 Source: Earnings Release
The total average daily production soared 4% year over year to approximately 521,000 boe for 2018. The production mix has consisted of approximately 90,000 bbls of oil, 52,000 bbls of NGL and, 2.278 billion cubic feet (bcf) of natural gas. The energy company has divested lower-margin Utica and Mid-Continent assets in 2018 to move its focus towards higher margin oil plays. Therefore, the company expanded its focus on higher-margin oil growth platforms through the acquisition of WildHorse Resource Development Corporation and investments in the Powder River Basin (PRB).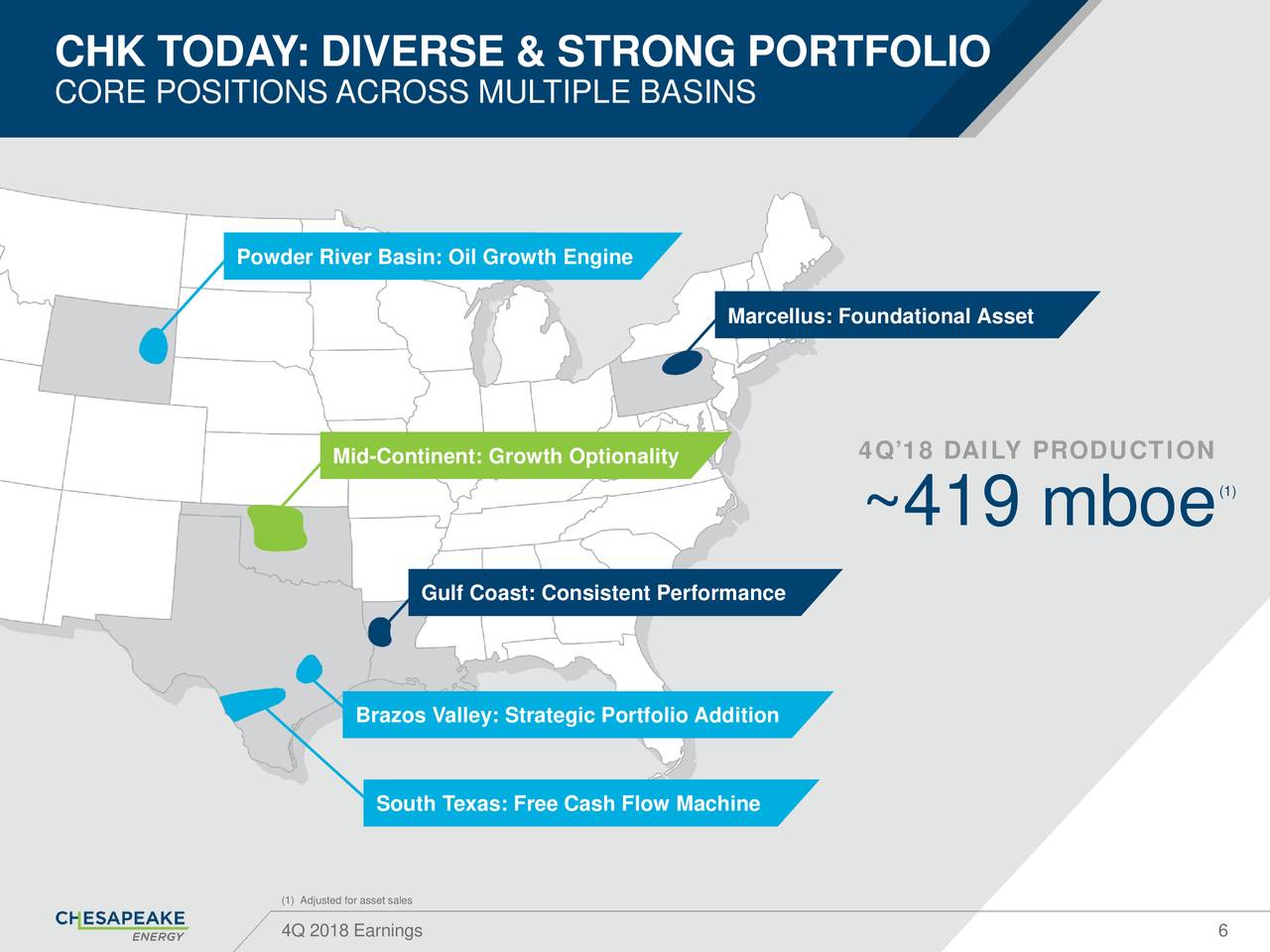 Source: Earnings Release
In addition, Chesapeake expects significant growth in oil production during 2019, thanks to recent investments and acquisitions. The projected 2019 oil production is likely to hover close to 116,000 to 122,000 bbls, up approximately 32 percent from the previous year. The increase in oil production would also boost oil mix, which is projected to stand at 26 percent of total production.
Its strategy of boosting oil production led it to generate solid margins last year. Moreover, the company plans to reduce its costs by $200 million in 2019 through operational efficiencies and cost cuttings. This strategy would offer further support to its margins in FY2019.
Its balance sheet, on the other hand, has also been strengthening at a sharp pace. Chesapeake Energy has reduced overall debt by $1.8 billion last year while its free cash flows remained positive.
The CEO said, "We expect our cash flow to be meaningfully stronger in 2019, as we continue to leverage our strength in capital efficiency and cash cost leadership. Chesapeake's progress, portfolio, and strategic plan provide a compelling investment opportunity and we look forward to driving differential value for our shareholders in the year ahead."
Source: Finviz.com
Chesapeake's shares are trading at discount; its shares are trading at only 4.5 times to earnings and 0.37 times to sales compared to the industry average of 18 and 1.8 times, respectively. Although CHK shares are up more than 20% since the start o this year, its production outlook, financial numbers and the outlook for commodity prices suggest further upside potential. The majority of analysts expect Chesapeake Energy shares to hit $10 by the end of the first half of this year.